BOOK DIRECT
AND SAVE $10 PER NIGHT
$10 OFF per night, Use Promo Code: DIRECT
Discounted off-site parking
New York
Visit Our Hotel Near Madison Square Garden
New York City's most quintessential sights, sounds and experiences are all within convenient reach of our hotel, just steps away from Madison Square Garden and The Empire State Building. Wander down Broadway to see the famed Flatiron Building, take a walk up Fifth Avenue to marvel at the massive Empire State Building, or head uptown to Macy's flagship store for some retail therapy. Our hotel in NoMad is also near some of the best restaurants in all of Manhattan, including Eataly, the largest Italian marketplace overflowing with authentic cuisine.
Experience the Best NYC Restaurants
Whether you're in the mood for fresh seafood, craving an authentic Italian meal, looking for the city's best barbecue, or seeking more exotic cuisine, our hotel is within walking distance of some of the best restaurants in New York City. When you stay local, eat like a local. Some of our favorites include Mario Batali's Eataly, Hill Country Barbecue, and the crave-worthy tacos at Dos Caminos. Take a look at our list below for some additional ideas of great places to drink and dine in Manhattan.
An Affordable Family Hotel in New York City
Offering top family attractions from Times Square to the Central Park Zoo, New York City is a thrilling place to bring the whole gang. Our central location in the heart of Manhattan provides easy access to an array of kid-friendly activities via foot, cab, car or train.
Immerse Yourself in NYC Culture
No trip to New York City would be complete without a visit to one of the world-famous art, science, and history museums spread out around town. Take an afternoon to explore the art collections of the Upper East Side at the Frick, Guggenheim, Met and Whitney. Then, head downtown to get a glance of contemporary works at The New Museum, or discover a page from the past at the Museum of Jewish Heritage.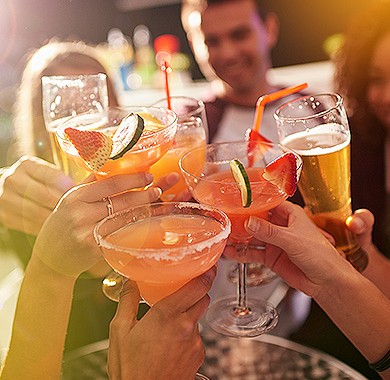 NYC Nightlife Guide
In the city that never sleeps, you'll have the time of your life at night. Our hotel is near the city's best bars, clubs, and restaurants, making it easy to dive right into NYC's vibrant nightlife scene while you're in town. Enjoy a twilight cocktail and stunning skyline views from local rooftop lounges. Then, step out for an unforgettable night on the town. The local district surrounding our hotel is filled with signature NYC nightlife options, including lively NoMad bars, world-famous restaurants, and the city's hottest nightclubs.
Take Advantage of Outdoor Attractions In New York City
New York City is home to a plethora of skyscrapers, magnificent architecture, endless opportunities for shopping, dining and nightlife. But The Big Apple is also big on outdoor adventures. When you stay at Broadway Plaza Hotel, you're nearby a variety of outdoor attractions in New York City. Whether you're making a visit to Madison Square Park's spacious dog run, colorful playground and large grassy area (featuring temporary artwork exhibits and complimentary Wi-Fi) or want to walk, bike, or picnic in iconic Central Park, there are endless opportunities for outdoor adventures in NYC.
NYC Shopping Guide
Centrally located in the heart of NoMad, Broadway Plaza Hotel is within walking distance to some of the best shopping districts in the entire world. The biggest names in fashion can be found along Madison Avenue, often referred to as the "Gold Coast" of retail. Parallel to Madison Ave is Fifth Avenue, lined with high end luxury shops, designer boutiques, sidewalk cafes, beauty salons and spas. Or, take the train to SoHo and Brooklyn for quirky curio shops and unique thrift store finds.
NYC Transportation Information
Broadway Plaza Hotel is just steps from New York City's best shopping and dining, sightseeing and entertainment. From our convenient location in the center of NoMad, the most vibrant neighborhood in all of Manhattan, it's easy to catch a train to almost anywhere in the city, or surrounding boroughs, and arrive within minutes. Taxi and private car services are also available for crosstown trips, late-night outings, and transportation to and from any one of the three nearby airports - John F. Kennedy, LaGuardia and Newark in New Jersey.